Passport Series: Authentic Portuguese Fado Ricardo Ribeiro, Diana Vilarinho, and Trio
Portuguese fado arrives for the first time in the Capital District with a double bill featuring one of fado's biggest stars, Ricardo Ribeiro, joined by breakout singer Diana Vilarinho. The artists will be accompanied by fado's "golden trio" of musicians: José Manuel Neto on the Portuguese Guitar, Carlos Manuel Proença on the classical guitar, and Daniel Pinto on the acoustic bass guitar.
Fado is enjoying a global resurgence, propelled not only by worldwide tours of artists who perform it, but also by the experiences of visitors to Portugal who have heard the music in the small taverns and community collectives where it was born and still thrives. Fado captures the spirit and inventiveness of Portugal, as well as some of its boldest contradictions, in a seamless tradition stretching out over more than 150 years.
Ricardo Ribeiro's powerful voice and an astounding emotional range have made him a luminary of contemporary fado. He has garnered worldwide recognition from audiences, the press, and his peers for his total commitment to fado, Portugal's most emblematic and mysterious music.
Diana Vilarinho's recent self-titled recording, released in 2021 by Sony Music Entertainment, is the product of deep and longstanding experiences in Lisbon's most traditional fado houses. While still only in her 20s, Diana brings a maturity and grace to a stunning variety of traditional fado music. She is unquestionably a voice for the future.
Accompanying Ricardo and Diana on the Portuguese guitar is José Manuel Neto, the guitarist responsible for the sound behind fado's best-known voices of the past 20 years. From Ana Moura to Mariza to Carlos do Carmo and Camané, José Manuel Neto has played for them all–and to worldwide acclaim.
The concert will showcase all three artists in a magical evening of fado straight from Lisbon.
Personal Responsibility Statement: Proctors prides itself on offering a diverse selection of arts entertainment. Not all productions may appeal to or be appropriate for every person or for all ages. Patrons are encouraged to familiarize themselves with the shows we offer in order to make informed decisions prior to purchasing tickets.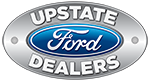 FREE PARKING in the Broadway parking garage is provided by Upstate Ford Dealers. WE ARE IN YOUR AREA.