One Vision of Queen Ft. Marc Martel
Martel is the ideal match for One Vision Of Queen, an explosive, attention-commanding tribute where some of the most iconic rock anthems of all time collide with a theatrical performance style and eye-popping production. At its core, the riveting show focuses on the extremely diverse body of the band's greatest hits, from the grandiose "Bohemian Rhapsody" to the adrenaline-pumping "We Will Rock You," the euphoric "We Are The Champions," the funky "Another One Bites The Dust," the stadium-shaking David Bowie collaboration "Under Pressure," the soulful "Somebody To Love" and the swinging "Crazy Little Thing Called Love".
Personal Responsibility Statement: Proctors prides itself on offering a diverse selection of arts entertainment. Not all productions may appeal to or be appropriate for every person or for all ages. Patrons are encouraged to familiarize themselves with the shows we offer in order to make informed decisions prior to purchasing tickets.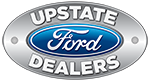 FREE PARKING in the Broadway parking garage is provided by Upstate Ford Dealers. WE ARE IN YOUR AREA.