Saturday, December 16, 2023
"It's a Jazzy Christmas" is returning to Proctors!
When it's the most wonderful time of the year, "It's a Jazzy Christmas" has all your favorite holiday songs! This ensemble performs concert hall shows that feature the music of Vince Guaraldi from the Peanuts holiday specials and many other seasonal favorites. Wrapped in the theme of a radio drama, their concerts take the audience on a holiday ride through decades of great classic music and fun radio serial interludes. Audiences will even have a jolly laugh or two. It's a Jazzy Christmas is the perfect concert to get everyone in the holiday spirit.
*"It's a Jazzy Christmas" will also have a performance Friday, December 15 at Universal Preservation Hall – Saratoga Springs. Click here for more information.
Personal Responsibility Statement: Proctors prides itself on offering a diverse selection of arts entertainment. Not all productions may appeal to or be appropriate for every person or for all ages. Patrons are encouraged to familiarize themselves with the shows we offer in order to make informed decisions prior to purchasing tickets.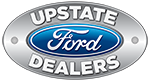 FREE PARKING in the Broadway parking garage is provided by Upstate Ford Dealers. WE ARE IN YOUR AREA.