Dare to experience the dangers and delights of Dinosaur World Live in this roarsome interactive show for all the family.
Grab your compass and join our intrepid explorer across uncharted territories to discover a pre-historic world of astonishing (and remarkably life-like) dinosaurs. Meet a host of impressive creatures, including every child's favorite flesh-eating giant, the Tyrannosaurus Rex, a Triceratops, Giraffatitan, Microraptor and Segnosaurus!
A special meet and greet after the show offers all our brave explorers the chance to make a new dinosaur friend.
Now an international smash hit, Dinosaur World Live is back by popular demand following its hugely successful 2022 US tour.
Don't miss this entertaining and mind-expanding Jurassic adventure, live on stage.
Book now before tickets become extinct!
★★★★★
'Great fun. Highly recommended for all ages'
What's Good To Do
★★★★
'A spectacular interactive show!'
OK! Magazine
★★★★
'The perfect family show. Educational and entertaining'
The Reviews Hub
Age guidance: 3+
Running Time: 50 mins + 15 min post-show meet & greet with the Dinosaurs
dinosaurworldlive.com
@dinoworldlive
Personal Responsibility Statement: Proctors prides itself on offering a diverse selection of arts entertainment. Not all productions may appeal to or be appropriate for every person or for all ages. Patrons are encouraged to familiarize themselves with the shows we offer in order to make informed decisions prior to purchasing tickets.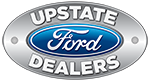 FREE PARKING in the Broadway parking garage is provided by Upstate Ford Dealers. WE ARE IN YOUR AREA.