Thursday, December 07, 2023
Judy Garland sings "Have Yourself a Very Merry Christmas" in this delightful tale of young love and childish fears as four sisters prepare for a reluctant move from St. Louis to New York. Mary Astor and Margaret O'Brien also star, the latter winning that year's Oscar for "Outstanding Child Actress." Garland would marry director Vincente Minnelli the following year.
1944. Not rated. 113 minutes.
Personal Responsibility Statement: Proctors prides itself on offering a diverse selection of arts entertainment. Not all productions may appeal to or be appropriate for every person or for all ages. Patrons are encouraged to familiarize themselves with the shows we offer in order to make informed decisions prior to purchasing tickets.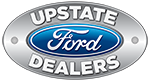 FREE PARKING in the Broadway parking garage is provided by Upstate Ford Dealers. WE ARE IN YOUR AREA.