ICFS Presents: Sorcerer (1977)
Tuesday, February 06, 2024
Presented by ICFS
Though better known for having directed "The French Connection" and "The Exorcist," ICFS contends that SORCERER is William Friedkin's finest film. With an electrifying score by Tangerine Dream and an intensely sweaty performance by Roy Scheider, SORCERER follows four unfortunate men—all hiding from their pasts in a remote South American town—who agree to risk their lives transporting gallons of unstable nitroglycerin across dangerous jungle terrain. Also features Joe Spinell as "Spider."
1977. Rated PG. 121 minutes.
A part of the "Those We Loved! Those We Lost!" Movie Series.
Personal Responsibility Statement: Proctors prides itself on offering a diverse selection of arts entertainment. Not all productions may appeal to or be appropriate for every person or for all ages. Patrons are encouraged to familiarize themselves with the shows we offer in order to make informed decisions prior to purchasing tickets.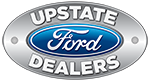 FREE PARKING in the Broadway parking garage is provided by Upstate Ford Dealers. WE ARE IN YOUR AREA.