Friday, December 01, 2023
This screening of ELF is SOLD OUT. Walk-up purchases will not be available.
ICFS POP Cinema and Proctors Collaborative present the movie ELF!
You know the one–"After inadvertently wreaking havoc on the elf community due to his ungainly size, a man raised as an elf at the North Pole is sent to New York in search of his true identity." Or as Buddy tells it, "Then I traveled through the seven levels of the candy cane forest, past the sea of twirly-swirly gumdrops, and then I walked through the Lincoln Tunnel."
Start smiling because ELF is coming to Proctors and we all know that smiling is Buddy the Elf's favorite! This very special ICFS showing will have prizes & surprises including All-You-Can-Eat Popcorn with toppings from the Elves' four main food groups: candy, candy canes, candy corn and syrup; Elf trivia; a holiday sing-along AND if everyone stays on the Nice List, we may get a visit from You-Know-Who! The movie will start at 7 p.m.
Rated PG for some mild rude humor and language. 97 minutes. Location: GE Theatre
$9 Adults
$6 Seniors, Students, Children 17 and under (not available online)
Only a Cotton-Headed Ninny Muggins would miss this – get your tickets to see ELF today!
Personal Responsibility Statement: Proctors prides itself on offering a diverse selection of arts entertainment. Not all productions may appeal to or be appropriate for every person or for all ages. Patrons are encouraged to familiarize themselves with the shows we offer in order to make informed decisions prior to purchasing tickets.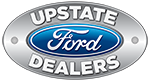 FREE PARKING in the Broadway parking garage is provided by Upstate Ford Dealers. WE ARE IN YOUR AREA.